Spy Video Pen With Audio & 8GB Storage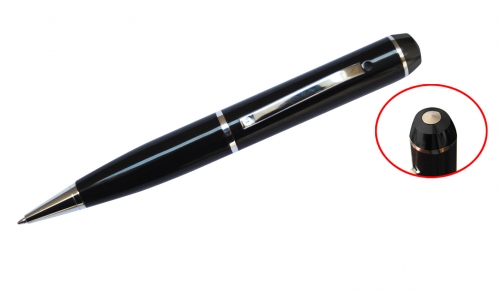 Be among the first to acquire this little piece right out of the spy novels. The small pinhole camera can be used secretly by law enforcement or for personal covert missions.
Students can also use this camcorder to record their lessons and tutorials. This pen is set apart from the competition by its motion activation setting and adjustable resolution.
Easy, one button operation. Press the top of the pen and immediately the digital video records to the 8GB memory. Viewing your files is easy by connecting the hidden USB port and connecting to your computer.
Features
-Tiny size and discreet look make it ideal for covert recording
-Fully operational refillable ink
-Motion activation
-Adjustable recording resolution
Technical Specifications
-Simple for anyone to operate with just one push of a button
-Records until the memory is full or turned off
-USB adapter chargeable

-Lithium-Ion battery approximately 2 hours of recording on full charge
-AVI Video (1280 x 720 Video Resolution with up to 30 fps)
-8GB internal storage

Includes
-8GB Ink Pen with built-in camera, microphone, and digital video recorder (DVR)
-1 USB to DC Wall charging adapter
-1 Computer Driver CD and instructions
-1 USB connector
-1 Instruction booklet
MG-1011 8GB Spy Pen 

Our Price Only $195!