Hidden Camera Outlet With Motion Sensor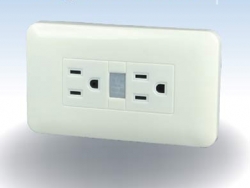 Hidden Camera Outlet With Motion Sensor

Small, compact, portable and sticks to the wall. This camera will fit in your shirt or coat pocket. The Hidden Camera Outlet renders expensive and bulky covert video systems obsolete for your short term covert surveillance or nanny camera needs.
This unit contains a complete covert video system built into an electrical power outlet plate.  Using the included Stick-It! tape, you will be able to set up and place covert video on walls anywhere in under a minute!
This is innovative stationary covert video at it's best.  Great for any room in a house, an office, a hotel room, a meeting room, a garage or workshop, a retail store or anywhere there is a wall. The high grade covert video camera features a built in DVR and motion sensor. The motion activation and time and date features make covert video operations simple enough for all users. 
Your covert video Stick-It! records to a microSD card hidden inside the unit. Cover plates are easily and quickly removed for access the microSD slot. Simply review the footage from the card each day of use and replace the card to continue your covert video operations.
Features
High resolution/standard resolution selection switch

Time/Date stamping

Motion activation

Low lux rating

Set to take video or still photos

Audio not included
Technical Specs
Video Resolution: 640 x 480 @ 30 fps 1280 x 720 @ 30 fps

Video Format: AVI

Photo Format: JPEG

Storage: MicroSD card up to 32GB

Storage Consumption: ~1GB consumed every 30 minutes

Recording Capacity: 320 minutes VGA 260 minutes HD 5 days Standby

Battery Life: Up to 2 hours

Charging time: 3 hours

Camera: 2 megapixel CMOS sensor

Time/date stamping: YYYY.MM.DD - HH:MM:SS

Operation mode: PIR trigger record/ PIR trigger photo

Minimum illumination: 1.3 Lux

Lens: 0.2 in
Includes
MG-1010 Hidden Camera Outlet

Our Price Only $415 CAD