Smoke Detector Hidden Spy Camera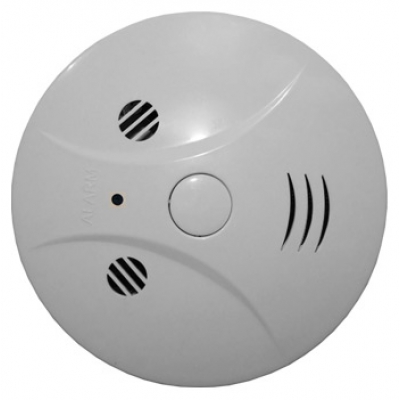 Our smoke detector hidden spy camera operates with an internal 10 hour battery and DVR. Featuring a remote control and motion detection, this unit is designed to hide in plain site and can easily be moved from room to room.
We use this camera often on surveillance and covert operations from catching employees stealing to cheating spouses.

The electronics of the smoke detector have been replaced with a dependable high resolution video camera with audio.
This camera will fit in your home or office for your surveillance needs. It features a remote control for choosing either continuous recording, motion detection recording, or for taking still shots.

The smoke detector hidden camera records full VGA quality at 1280 x 960 with 30 feet per second. It is powered by an internal lithium-ion rechargeable battery and has 16GB of internal memory. Simply remove the device from its mounting bracket with a quick turn, and plug and play into your Mac or PC.

Features
Records 1280 x 960 color video

Motion detection
Technical Specs
Includes
1 Smoke Detector Hidden Spy Camera


1 Remote

1 USB Cable

1 Instructions




 

*Please note that this is not a functional smoke detector



MG-1027 Smoke Detector Hidden Spy Camera

Our Price Only $349!