Hi End iPhone4/iPad Hidden Camera Clock Radio Music Station

Security recording made easy and economical with our new line of self contained, covert digital video recorder/cameras. 
Motion activated real time video is recorded on a tiny SD card, housed in a hidden compartment. All recording are time/date stamped for professional security applications. Every system includes 4Gb SD card.
No Visible SD Card Slot or Video Out Jack - Hidden Compartment Requires secret procedure to Open. "Security" recording has never been more secure!
Pre-Record D1- Automatically captures 6 seconds of video before each motion activated event-making sure you record all the action. Even fast moving subjects are captured with seconds to spare.
Motion activated real time DI (720 X 480 @30fps) videos are recorded on a tiny SD card, housed in a hidden compartment.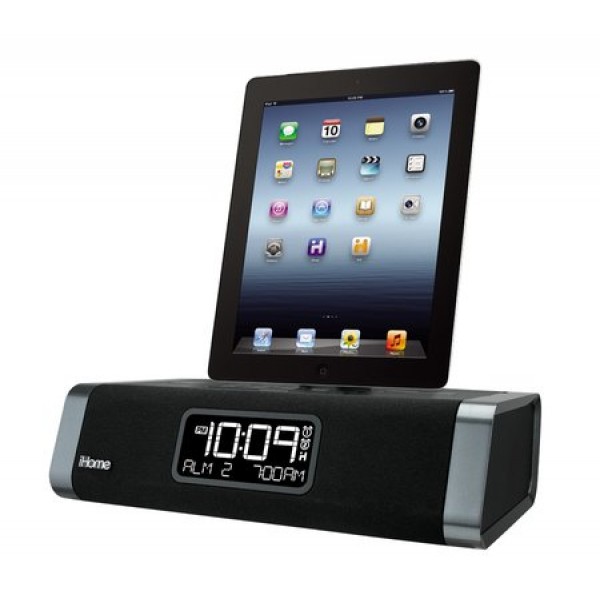 The ST-1003 is a dual alarm clock radio for Iphone 4 (30 pin connector) iPad, iPhone and iPod that lets you charge your iPad, iPhone or iPod and lets you wake and sleep to either one, to a custom playlist, or to FM radio.
The auto sync feature syncs the clock to your iPhone (which is always current via cell phone towers) to set the time quickly. The ST-1003 allows you to set two separate alarms with different times on different days with our 7-5-2 feature.
This unit also includes 6 FM presets, EQ controls and 3D sound and Reson8® sound technology for an exceptional audio experience
User settings are easily changed by simply connecting the unit into the "Video in" of your TV/Monitor via the supplied RCA cable and pressing the menu button on remote control. Motion activation sensitivity is adjustable to operate effectively in most any environment.
Two Playback Options - Recorded images/video can be played back directly from the unit by simply connecting the included RCA cable to your TV/Monitor and touching the play button on IR remote control. SD card can also be removed from unit and played on your PC via included SD card reader.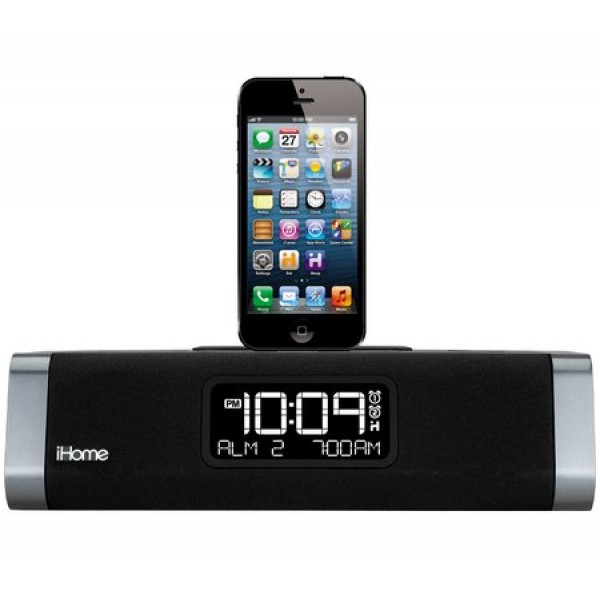 Features
Full Resolution D1 Video (720 X 480 @30fps) H.264 Compression
32GB SDHC Card Support: 160 hours recording at full 30 fps- (records 5 hours per GB on lower capacity SD cards) Hundreds of hours possible with lower frame rate selections
Embedded Time/Date Stamp: embedded in video Time/Date stamp is seen on both playback from unit and PC via SD Card
Enhanced Motion Activation: Not only is sensitivity adjustable, but also features a "grid" setting with multiple blocks to eliminate unwanted triggers in the camera view such as a computer screen or rotating fan
IR Remote Control: For setting system parameters and arming and disarming unit
Low Light Color CCD Camera .05 Lux 550 LOR
Adjustable Motion Activation
Uses windows media player on SD card playback (PC)
Approximate Video Record time - 5 Hours per 1Gb
Technical Specs
Normal looking and working iPhone dock

Full Resolution D1 Video 720 X 480


Frame Rate: 30 fps

Motion Detection Activation

Remote Control Activation

Memory: SD Cards Up To 32GB
Includes
ST-1003 High End iPhone 4/iPad Hidden Camera Clock Radio Music Station

Our Price Only $599 CAD