Night Vision Covert Smoke Detector Spy Camera With Side View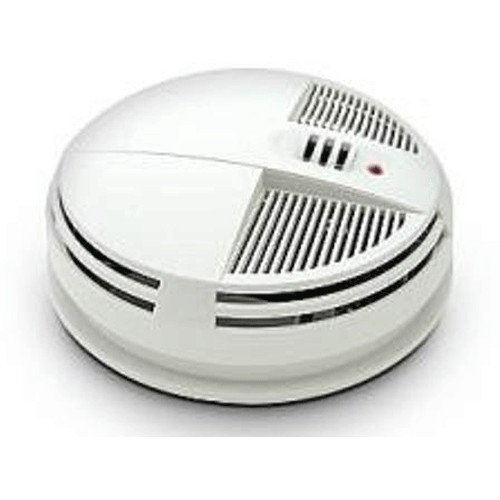 Our online Spy Store based in Vancouver Canada ships high quality hidden spy cameras throughout North America and Worldwide.
No one will ever suspect that a typical smoke detector is actually capturing surveillance video.
With its invisible IRs, this Smoke Detector records crystal clear video in almost total darkness. Although it is powered by long life batteries, the PIR heat sensor conserves battery life by kicking in to action only when body heat is detected. 
With no visible wires, you can mount the smoke detector on a wall or ceiling. The side view camera covers a wide area and is ideal for seeing the length of a room or hallway. Captured video is stored on the removable SD card.
Features
• Easy install just charge it and mount it
• 2 second start up for motion activated recording using PIR (heat motion)
• Battery operated for Up to 30 days of operation in standby mode on one      battery charge
• Night Vision using invisible IR's
• No visible wires
• Truly the only product on the market for inside long term use
NOTE: This Unit Is A Non-Functioning Smoke Detector
Technical Specs
Camera
Image Sensor: 1/4 720x480
500TVL
.01 LUX
Color
Auto White Balance
62 Degree Viewing Angle
DVR
Time and Date Stamp
Resolution: 720x480
Recording Mode: Motion, Continuous, Panic
Firmware Upgradable using SD card
Frame Rate: 6/8,13/15,25/30
IR remote control
Video output
Micro SD card up to 32GB
NTSC or PAL
PIR function
Power Rechargeable 2.7v Li Polymer Battery
Includes
Night Vision Smoke Detector Camera

4GB SD Card
Remote Control
USB Cable
Video Output Cable
TL Player Software CD
KJ-1002 Night Vision Smoke Detector Camera With Motion Detection & Side View

Our Price Only $499!