Night Vision Covert Spy Camera With Motion Detection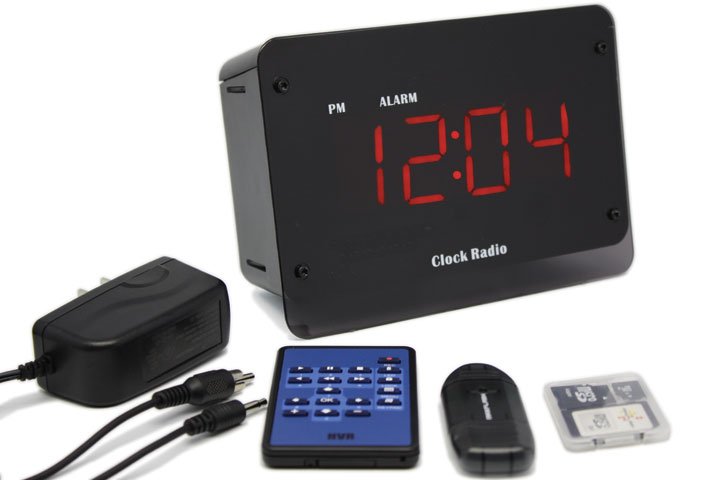 Our online Spy Store based in Vancouver Canada ships high quality hidden spy cameras throughout North America and Worldwide.
One Of Our Latest Products, This High End Clock Radio Hidden Spy Camera With Night Vision Has Everything You Need To Keep Watch Over Your Home Or Office.
Our most popular hidden surveillance camera is now redesigned with invisible Infrared (IR) sensors. These sensors allow the camera to covertly record action on video in near darkness up to 20 feet away.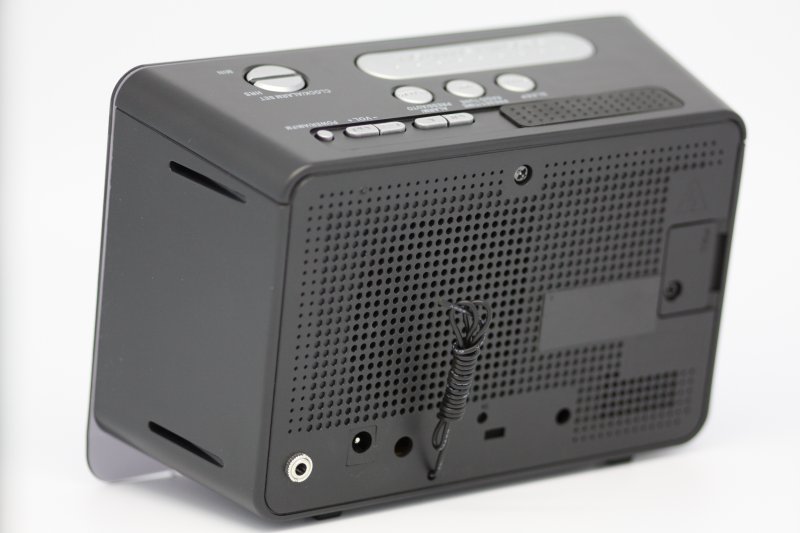 Features
• Motion activated recording
• Invisible IR sensors
• Record in near darkness up to 20 feet away
• 30 frames per second (adjustable 1-30)
• Multiple schedule recording options
• 32GB SD card capacity allows for up to 3 days of recording space
• Embedded video time & date stamp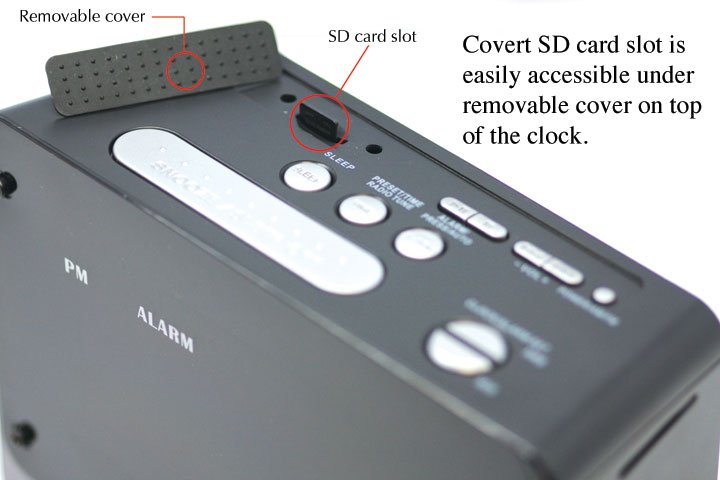 Technical Specs
Night Vision Invisible IR's
Camera Specs:
Image Sensor: 1/4" micron sensor
Resolution:740x480 pixels
S/N Ratio: >45 db
White Balance: Auto Tracking
Video System: NTSC
Sensitivity:>11.5V/lux-s @550nm
Note: the picture can appear to look Black and white in low lighting conditions. This is the design of a smart camera creating the best possible picture.
DVR Specs:
Video Compression H.264
PC Compatible: WinXP, Vista 32bit, and Win7 32bit, Win7 64bit
Choose from three Time/Date Stamp Formats: 1)yy-mm-dd, 2)dd-mm-yy, 3)mm-dd-yy
Control IR remote control
Firmware Upgrade through Micro SD card
Operation temperature 0~+50℃
Playback Fast Forward, Backward: x2/ x4/ x8, Frame by Frame
Playback mode via device itself or Secure Play back with bundled software
Playback Search By Time, By Event
Record Resolution 720x240 (NTSC) / 720x288 (PAL)
Recording Frame Rate 6/8, 13/15, 25/30 fps
Recording Quality 4 Levels adjustable (Super, High, Normal, Standard)
Recording Storage Micro SD card (support SDHC) up to 32GB
Video Compression H.264
Video Recording Modes: Continuous, Motion, and Scheduled Recording
Power: 110-220 Volt
Includes
Night Vision Clock Radio With Motion Detection

4GB SD Card
SD Card Reader
RCA Video Cable
IR Remote
Instruction Manual
KJ-1001 Night Vision Clock Radio With Motion Detection

Our Price Only $499!