Wireless IP Security Camera With Motion Detection

Pan And Tilt Wireless IP Camera With Motion Detection

Monitor and record from anywhere in the world! This wireless IP security camera is smart phone ready!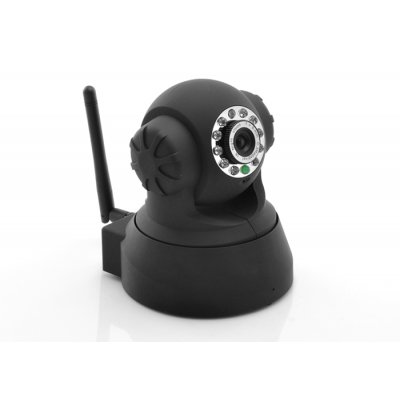 Do you need affordable video security in your home or small business?
This Wireless IP Camera has everything you need. Night Vision, Motion Detection, Email Alert, and Pan and Tilt functions.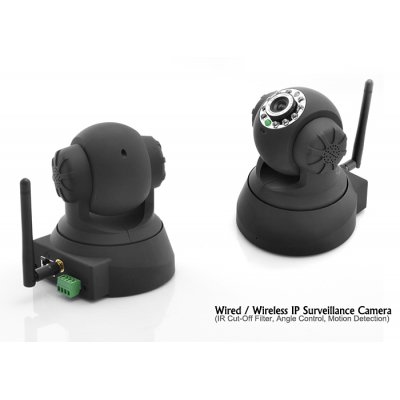 Need to check on your dogs when at work? Are you out for dinner and want to see how things are going with the kids and babysitter? You can easily log in with your smart phone and see your home live! You can even listen in!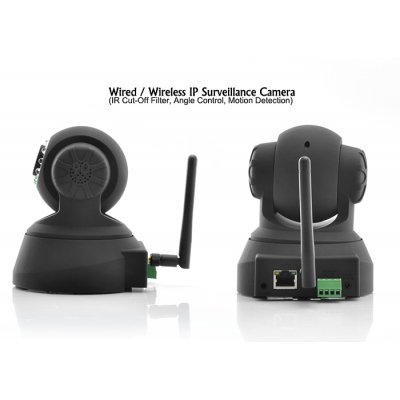 You simply can not beat the functionality of these cameras for the price!
The WiFi feature on this global security camera with motion detection recording comes with a CMOS 1/4 inch sensor for providing you with a high quality image for over the web viewing and supports TCP/IP, DHCP, SMTP, TP, DDNS, UPNP network protocols.
Specifications
Image sensor: 1/4 Inch CMOS Sensor
Resolution: 320x240, 640x480
Image Frame Rate: 100 FPS
Image compression: MJEPG (AVI)
Refresh Rate: 50Hz, 60Hz
Motion Detection
Video Parameters: Brightness, Contrast
Viewing Options: Reversal, Mirror
Audio: PCM Codec / 8000Hz 128 kb/s (1 chnl)
Operation Temperature: 0-50 Degree C
Operation Humidity: 20%-85%
Power Consumption: 3W
Night Vision
Viewing distance: 50 meters
Min lux: 0
Connectivity
WiFi: 802.11b/g
DDNS server: support
Ethernet: RJ-45/10-100 Base T
Supported Protocol: TCP/IP, DHCP, SMTP, TP, DDNS, UPNP
Set up to 8 users
Set Time & Date - Sync with your PC and select from a list of Ntp servers
Multi-Device Options - This feature allows you to setup 4 IP cameras to monitor simultaneously.
Basic Network Settings - Use the basic network settings to allocate IP addresses to each individual IP camera
Wireless LAN Settings - Comes with WEP, WPA, WPA2 encryption security options
ADSL Settings
UPnP Settings
DDNS Service Settings
Mail Service Settings - Set up mail alert
FTP Service Settings
Alarm Service Settings - Motion Detection, Alarm Input, Send mail On Alarm, Upload Image on Alarm

Package Contents
IP camera
Ethernet Cable
Mounting Plate
CD-ROM
Wall Screws x 2
Power Adapter (100 - 240v)
Antenna
CV-1004 Wireless IP Camera With Pan And Tilt

Our Price Only $135! With FREE Shipping In North America!