HD Car Video Camera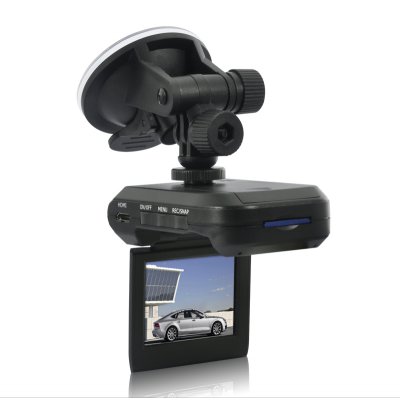 Primarily designed to be mounted on a car dashboard or windshield, this high speed HD video recorder enables you to easily capture video of road situations. Common uses include: insurance purposes, court evidence, surveillance, or just plain fun! However, this handy little device is not limited to car use only.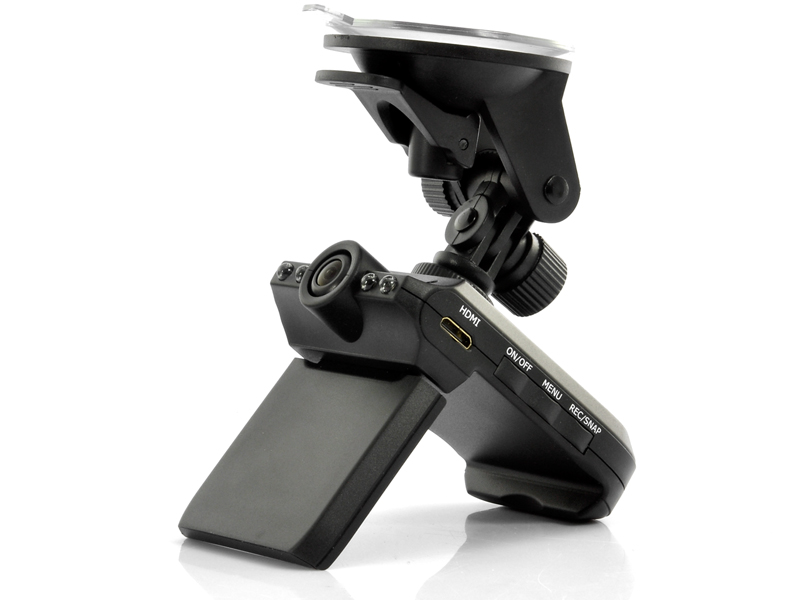 Thanks to the mini form factor and colorful 2.5 inch viewfinder you can easily slip the DV51 into your jean pocket and forget it's there. This makes it great for taking to your next party, get-together, sporting event, business meeting or even for use as a discreet surveillance cam thanks to the motion detection recording function!

Have you ever been accused of a traffic violation you did not commit? Well, thanks the combination of crystal-clear 1280x720 resolution, great color accuracy and low light sensitivity- as well as night vision, you'll now have a clear and detailed video that you can proudly present in your defense.

The best part is that you can record all day long thanks to the included car DC power cigarette lighter adapter and the SD card slot which supports up to 32 GB. We recommend that you keep one in your car at all times, always recording…who knows what you might capture.

Discreet and compact, amazing video quality, easy to use and highly convenient.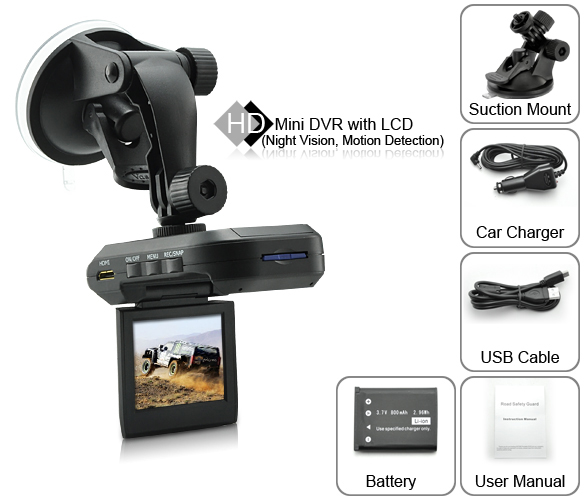 Manufacturer Specifications
Primary Use: Mini HD DVR with 2.5 Inch LCD Screen
Screen: 2.5 Inch TFT LCD Screen
Mode: Video Cam / Picture Camera / Playback
Resolution:
- Video: 1280*720(interpolated), 640*480 (native)
Recording Format:
- Video: AVI (H.264)
- Files Size: About 1GB / 15 minutes
Frame Rate: 30 FPS
Storage: SD/MMC card up to 32 GB
Record Mode: Cycle
Cycle Length: 2/5/15/ Min per file or OFF
Motion Detection Recording: Yes
Time/Date Stamp: Yes- ON/OFF
LUX Rating: 0
View Angle: 120 degrees
Built-in Mic: Yes
Frequency: 50/60 Hz
Connector:
- USB 2.0 (file transfer/Charging)
- Mini HDMI
Power Source: -Input: DC12-24V -Output: DC5.5V 750mA
Battery: 800 mAh
Battery Run-time: up to 2 hours
Dimension: 100(L) x 63(W) x 23(H) mm
Certificate: CE, FC
Manufacturer Ref: PRO21D6Z40SS
Product Notes
Built-in microphone lets you record audio as well
Package Contents for Model CVLL-DV51
Mini HD DVR
Suction Mount
USB Cable
Car Charger
User Manual
Battery
CV-1001 High Definition Car Video Recorder
Our Price Only $185!